How can you make a positive impact in the life of a child stricken by tragedy?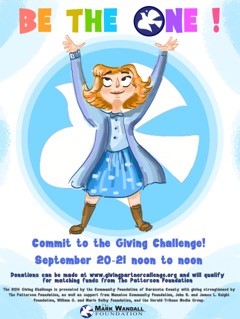 The 2016 Giving Challenge facilitated by the Community Foundation of Sarasota will be held on Tuesday, September 20 at noon until Wednesday, September 21st at noon.  All donations made during this 24 hour period are eligible for matching funds from The Patterson Foundation!  Donation must be made on the The Giving Challenge site to be included for matching.
The Mark Wandall Foundation has partnered with Comfort Zone Camps to bring FREE youth bereavement camps to children in our area.   One day of healing can begin a lifetime of change!  See how your donation will directly benefit a child in grief!
$25 PROVIDES HEALING ARTS PROJECTS, CAMP SHIRTS AND TAKE   HOME MEMORIES FOR ONE CAMPER

$50 PROVIDES A THERAPEUTIC CHALLENGE COURSE FOR TWO CHILDREN

$75 PROVIDES MONTHY RECONNECTION ACTIVITIES FOR ONE CHILD

$100 PROVIDES TRAVEL ASSISTANCE TO A CHILD WITHOUT MEANS OF TRAVELING TO CAMP

$250 PROVIDES CLINICAL INTAKE AND PREP FOR ONE CHILD

$625 PROVIDES FULL INVESTMENT OF A CHILD FOR A 1-DAY CAMP EXPERIENCE

$1,200 – PROVIDES FULL INVESTMENT OF A CHILD FOR A 3-DAY CAMP EXPERIENCE
Please join us on Tuesday, September 20th. Your tax deductible gift will help transform a child's broken spirit into a beautiful spark that will light the way to a happy, healthy, and optimistic future.
CLICK HERE TO DONATE – Then Choose "The Mark Wandall Foundation"
Thank you!