The Mark Wandall Foundation is a 501(c)(3) non-profit organization
dedicated to facilitating support for children in grief.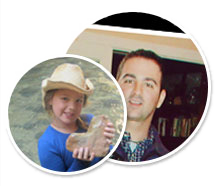 Mark's dedication to his family and friends was truly inspiring and his love for children left a lasting impression on all who knew him. This foundation has been set up to continue supporting children in his name. Mark was above all, a humanitarian. His compassion, intelligence and love created a light in the lives of others that was a testimony to the size of his heart. His laughter was big and contagious and his charisma could not be ignored.

Our partnership with Comfort Zone Camp began in October, 2015.  Our goal is to continue to offer camps yearly to families throughout Florida. 

Thank you for supporting our 19th Annual Memorial Weekend and Golf Tournament! The tournament – Friday, November 4th at the Legacy Golf Club in Bradenton, FL.

Connect with us on Social Media
Connect with us on Social Media and join the conversation on Facebook. Enjoy the day to day updates, photos, videos and meet some of our other supporters there. Please join us! We hope to see you there…

Our Work with Children – Your generous donations make a difference. Thank you for helping us transform a child's broken spirit into a beautiful spark that will light the way to a happy, healthy and optimistic future…