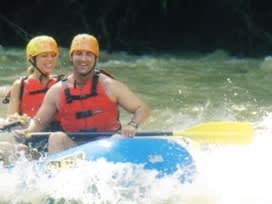 Mark's dedication to his family and friends was truly inspiring and his love for children left a lasting impression on all who knew him. This foundation has been set up to continue supporting children in his name.
Mark was above all, a humanitarian. His compassion, intelligence and love created a light in the lives of others that was a testimony to the size of his heart. His laughter was big and contagious and his charisma could not be ignored. The positive impact his life had in this community and the world can and will be continued on through the good works of the Foundation.

The Mark Wandall Foundation is a 501 (c)3, non-profit organization that provides support and assistance to grieving children who have lost a family member or guardian.
Through our partnerships with Comfort Zone Camp, the Sarasota Manatee Association for Riding Therapy (SMART) and our college scholarship program, we trust that we can transform a child's broken spirit into a beautiful spark that will light the way to a happy, healthy and optimistic future.
The Mark Wandall Foundation's programs not only benefit grieving children but serve as a tribute to Mark and Melissa's daughter Madisyn Grace, who was born just two weeks after her father's fatal crash.
Facilitating support for children and teens in grief through the following partnerships and programs:
Bringing FREE youth bereavement camps to children in Florida available to children and teens ages 7-17 years.
Sarasota Manatee Association for Riding Therapy (SMART)
Providing a monthly equine assisted therapy program to children ages 5 and up.  Parents and care-givers have the opportunity to connect concurrently.
College Scholarship Program
Death often brings a financial burden.  Our scholarship program helps children reach their college dreams.
Pictures from our partnership with SMART